About Raising a Sensory Smart Child
Updated and Expanded 3rd Edition of Raising a Sensory Smart Child
By Lindsey Biel, OTR/L and Nancy Peske, with a foreword by Dr. Temple Grandin
Available at your local bookstore and online!
Raising A Sensory Smart Child is the award-winning, definitive handbook for dealing with sensory processing challenges, providing you with invaluable insights, practical tips, real-life strategies and resources−whether you are helping a baby, young child, teenager, adult child or yourself.
Coauthored by an occupational therapist (OT) and the mother of a child with sensory processing disorder (SPD), the newly updated and expanded edition of Raising A Sensory Smart Child is more valuable than ever, including:
Information on how the senses work together and where to get the best help
Even more sensory diet activities for home and school, including ideas for babies, kids, teens, adults, and families
Even more practical solutions for daily challenges including brushing teeth, dressing, and picky eating plus new solutions for going to the doctor, dentist, family gatherings, parties, riding in a car, and more
"Sensory smart" parenting strategies and how to advocate for your child at school
Updated information and insights into the special challenges for those on the autism spectrum who have sensory issues
A new chapter on the best ways to harness technology to support learning
The latest research into sensory processing disorder
Information on interoception, the sensory system that relays information about our bodies' internal condition including hunger, thirst, heart rate, and respiration.
Updated insights into autism, including new statistics on prevalence, current research, new diagnostic criteria that acknowledges sensory issues, and why we must always presume competence
More self-regulation tools and techniques that help kids, teens, and young adults feel and function better
Additional information on compression garments and weighted blankets including recommendations for use and safety precautions
Complementary therapies, resources, helpful websites and much more!

In all, the new edition of Raising a Sensory Smart Child is the single most important book for anyone who parents, teaches, works with, or simply cares about a child with sensory issues.
Praise for Raising a Sensory Smart Child

"At last, here are the insights and answers parents have been searching for."
−Temple Grandin, author of Thinking in Pictures
"A comprehensive, informative, and practical book for parents. The authors explain sensory integration in a way that parents can understand. They provide very practical, hands-on examples for helping the child at home, in school, and in other settings. This is a must read for all parents who have children with sensory integration issues."
−Larry B. Silver, M.D., author of The Misunderstood Child
"This revision of the classic Raising a Sensory Smart Child gets a 10. No, it gets an 11! It covers everything you need and want to know about SPD. The information is deep and wide, the case stories are alive, the practical tips are novel and fun, and the resources are up to the minute. Lindsey and Nancy's compassion and wisdom, coming from their experiences as an OT and the mother of a son with SPD, will help you become a sensory‐smart parent, too."
—Carol Stock Kranowitz, author of The Out‐of‐Sync Child and The Out‐of‐Sync Child Grows Up
"Lindsey Biel and Nancy Peske have done it again! They demystify the vast array of sensory processing challenges that are too often overlooked, yet critical to functioning in the world. With down to earth explanations and practical strategies, the authors offer a thoughtful, comprehensive resource to parents and educators on how to manage sensory issues."
—Jed Baker, PhD, Director of The Social Skills Training Project
"With new material on sensory issues and technology, current research, and the newly recognized interoception, the authors bring their award‐winning resource to new heights. With the latest easy to implement, effective self‐regulatory strategies, this is a must‐have for anyone wishing to know more… about sensory issues. While this book would have been helpful when I was a child on the autism spectrum needing to regulate my sensory system, I am grateful to have it as an adult."
—Stephen M. Shore, EdD, author of Beyond the Wall and coauthor of Understanding Autism For Dummies
About the Authors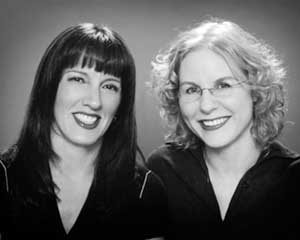 Lindsey Biel, M.A., OTR/L (left) is an occupational therapist based in New York City, where she evaluates and treats children, adolescents, and young adults with sensory processing issues, developmental delays, autism, physical disabilities, and other challenges.
Lindsey specializes in building fine and gross motor, visual processing, self-help, and sensory processing skills to promote optimal engagement and independence. She also helps families, schools, museums, libraries and other community facilities with simple modifications and accommodations to enhance a person's ability to learn, play, and thrive.
Lindsey received her training at New York University and has worked in both the New York City of Department of Education and the New York State Early Intervention system.She is also the author of Sensory Processing Challenges: Effective Clinical Work with Kids & Teens published by W.W. Norton Mental Health. She has written numerous articles and book chapters for professional and parenting publications, has been featured on multiple podcasts and radio talk shows, and is the co-creator of the Sensory Processing Master Class DVD program with Drs. Brock and Fernette Eide. She conducts workshops for school staff, parents, and professionals across the country.
You can email Lindsey at Lindsey@sensorysmarts.com
Nancy Peske (right) is a freelance writer, editor, and book publishing consultant, and the co-author of
Cinematherapy. She lives in Milwaukee, Wisconsin with her husband and son, who has sensory processing issues.
You can email Nancy at Nancy@nancypeske.com
Dr. Temple Grandin, who wrote the foreword, is Associate Professor of Animal Science at Colorado State University and is an autistic advocate and author of numerous books including Thinking in Pictures and other bestselling books. You can find out more about Dr. Grandin on her website.