About Raising a Sensory Smart Child
Updated and Expanded Edition of Raising a Sensory Smart Child
By Lindsey Biel, OTR/L and Nancy Peske, with a foreword by Dr. Temple Grandin
Available at your local bookstore and online at sites including:
Raising A Sensory Smart Child is the definitive handbook for overcoming sensory processing challenges, providing you with invaluable insights, tips, real-life strategies, and resources−whether you are helping an infant, young child, teenager, adult child, or even yourself.
Coauthored by a pediatric occupational therapist (OT) and the mother of a child with sensory processing disorder (SPD), the expanded and updated edition of Raising A Sensory Smart Child is more valuable than ever, including:
Easy-to-follow information on how the senses work together
How and where to get the very best professional help
Sensory diet activities that meet a child's needs at home and school, including new ideas for babies, kids, teens, adults, and families
Practical solutions for daily challenges such as brushing teeth, dressing, and picky eating plus new solutions for going to the doctor, dentist, family gatherings, parties, riding in a car, and more
"Sensory smart" parenting strategies and how to advocate for your child at school
New information on the special challenges of helping children on the autism spectrum with sensory issues
Complementary therapies, resources, helpful Web sites and much more!

In all, the new edition of Raising a Sensory Smart Child is the single most important book for anyone who parents, teaches, works with, or simply cares about a child with sensory issues.
Praise for Raising a Sensory Smart Child

"A comprehensive, informative, and practical book for parents. The authors explain sensory integration in a way that parents can understand. They provide very practical, hands-on examples for helping the child at home, in school, and in other settings. This is a must read for all parents who have children with sensory integration issues."
−Larry B. Silver, M.D., author of The Misunderstood Child
"At last, here are the insights and answers parents have been searching for."
−Temple Grandin, author of Thinking in Pictures
"Because most of us never experience anything quite like it, sensory integration disorder can be difficult to conceive, understand, or recognize. Lindsey Biel and Nancy Peske illuminate the mysteries of sensory integration disorder in clear, practical terms. Both parents and teachers will find a wealth of insight and advice on helping our wonderful−although sometimes challenging−kids."
−Patty Romanowski Bashe, M.S.Ed., Executive Director, The David Center
Co-author of The O.A.S.I.S. Guide to Asperger Syndrome
Biel and Peske combine a professional and personal approach in creating a knowledgeable and supportive guide for parents. In a very readable manner they explain complex information and at the same time provide practical strategies that families can really use.
−Mary Sheedy Kurcinka, author of Raising Your Spirited Child
"Raising a Sensory Smart Child is a wonderful resource for parents, teachers, counselors, and pediatricians who'd like to know more about sensory integration dysfunction."
About the Authors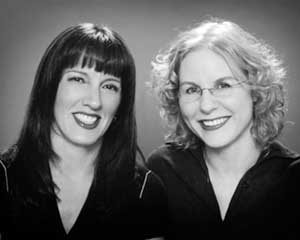 Lindsey Biel, M.A., OTR/L (left) is a pediatric occupational therapist based in Manhattan, where she evaluates and treats children, adolescents, and young adults with sensory processing issues, developmental delays, autism spectrum disorders, and other developmental challenges.
Lindsey specializes in remediating fine and gross motor delays, visual perceptual skill development, enhancing daily living skills, and improving sensory processing issues. She also helps families and schools to make simple modifications at home and school to enhance a child's ability to play, learn, and thrive.
Lindsey is also the author of Sensory Processing Challenges: Effective Clinical Work with Kids & Teens, published by W.W. Norton Mental Health in 2014. She writes articles for both professional and parenting publications and is the co-creator of the Sensory Processing Master Class DVD program along with Drs. Brock and Fernette Eide. She is a popular speaker, teaching workshops to parents, therapists, doctors, and others on practical solutions for developmental challenges and sensory strategies at home, school, and in the community.
You can email Lindsey at Lindsey@sensorysmarts.com
Nancy Peske (right) is a freelance writer, editor, and the co-author of the Cinematherapy series. She has co-written and edited several bestselling books in the areas of spirituality, inspiration, health, and psychology. She lives in Shorewood, Wisconsin with her husband and son, diagnosed with SPD and developmental delays. You can learn more about Nancy on her website.
Dr. Temple Grandin, who wrote the foreword, is Associate Professor of Animal Science at Colorado State University and is a person with autism. She is the author of Thinking in Pictures and other bestselling books. You can find out more about Dr. Grandin on her website.
Book Contents
Updated and Expanded Edition, Published by Penguin Books, August 2009
PART ONE:
Recognizing and Understanding Your Child's Sensory Issues
Chapter 1: Why Is My Child So… Unusual? 11
Chapter 2: The Seven Senses 28
Chapter 3: Tuning in to Your Child 50
Chapter 4: Where Did the Wires Cross? 64
PART TWO:
Addressing Your Child's Sensory Needs
Chapter 5: Finding and Working with an Occupational Therapist 87
Chapter 6: Sensory Diet of Daily Activities 103
Chapter 7: Practical Solutions for Everyday Sensory Problems 136
Self-Care Challenges: Grooming, Dressing, Eating, and Toileting

Grooming
Bathing
Diaper changes
Hair washing, brushing and cutting
Toothbrushing
Tooth grinding
Trimming nails
Clothing and underwear
Eyeglasses
Hats, gloves, and mittens
Helmets
Shoes, shoelaces, and boots
Potty training
Bed wetting
Meal time
Swallowing and taking capsules
Potty training
Bed wetting

Special Times, At Home and Away

Amusement parks
Bike Riding
Parties and gatherings
Dentist and doctor
Outdoor events
Public bathrooms
Shopping trips
Summer camp
Swimming
Waiting in line

Home Environment

Bathroom
Bedroom
Lighting
Noise and smell reduction
Room décor

Miscellaneous Challenges

Car rides
Elevators, escalators, and sliding glass doors
Hand flapping and head banging
Temperature sensitivity
General noise sensitivity
Fear of specific noises
Personal space issues
Picking up toys
Toe walking
Quick tips for calming an overwhelmed child

Practical Tips for Teens and Adults

Environmental issues
Learning to drive and driving
Doctor and dentist visits
PART THREE:
Fostering Your Child's Development
Chapter 8: Dealing with Developmental Delays 189
Chapter 9: Sensory Issues and the Child with an Autism Spectrum Disorder 220
Chapter 10: Improving Speech Skills and Picky Eating 236
Chapter 11: Helping Your Child to Learn and Get Organized 256
Chapter 12: Nutrition, Sleep, and Stress 283
Chapter 13: Complementary Therapies and Approaches 299
PART FOUR:
Parenting with Sensory Smarts
Chapter 13: Handling Discipline, Transitions, and Behavioral Issues 313
Chapter 14: Advocating for Your Child at School 332
Chapter 15: The Special Challenges for Teenagers 355
Chapter 16: Empowering Your Child in the World 364
PART FIVE
Recommended Products and Resources
Sources for Useful Toys, Equipment, and Products 381
Photos of Toys, Equipment and Products 390
Lindsey and Nancy's Fifty Favorite Toys 399
Organizations and Web Sites 402