Raising a Sensory Smart Child
The Definitive Handbook for Helping Your Child with Sensory Processing Issues
Raising a Sensory Smart Child
By Lindsey Biel, OTR/L and Nancy Peske, foreword by Dr. Temple Grandin
Newly Revised and Updated! Now the bestselling, award-winning handbook on sensory processing issues has even more practical information and real-life solutions than ever, including:
Practical solutions for daily challenges, from brushing teeth to dressing to eating to handling holiday gatherings
Strategies for managing sensitivities to noise, textures, smells and more
Sensory diet activities that help meet sensory needs with new ideas for kids teens, adults, families and schools
How to support children, teens and adults with autism and sensory issues with compassion and respect
Parenting tips for handling discpline, transitions, and behavioral issues
Ways to advocate for your child at school and make schools more "sensory smart"
How to help your child with sensory issues use technology effectively and responsibly
Ways to empower your child and teen in the world and much more!
Available at your local bookstore and online.   Learn more about this book…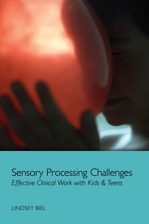 Sensory Processing Challenges: Effective Clinical Work with Kids & Teens
By Lindsey Biel, OTR/L
Lindsey Biel's new sensory strategies book for therapists, teachers, psychologists, parents and others is now available.
See the Sensory Processing Challenges web site for more information and for downloable sensory screening tools for home and school.
Lindsey's 2018–2019 Speaking Engagements
November 6 - Millicent Hearst Children's Center staff training, Brooklyn NY. Sorry, this training is not open to the public.

November 8-9 - Midsouth Autism Conference, Memphis, TN. For more information visit MAC.

November 16 - Building Children's Visual Processing Skills, CUNY Graduate Center, New York NY. For more information, please visit https://www.ucpnyc.org or call 718-436-7979 Ext. 704.

November 30 - KIDZ Conference, Long Island University CW Post, Brookville NY. Watch here more information to come.

March 10, 2019 - Practical Solutions for Everyday Challenges: Sensory Smart Tips, Tools and Techniques that Help Young ChildrenChallenge Early Intervention, Queens, NY. Visit Challenge EI for more information.

Six hours (2 DVDs) of practical information on behavior, emotion, and learning in children with sensory processing difficulties with Lindsey Biel and Drs. Brock and Fernette Eide.
Check here for free webcasts and Lindsey's articles on sensory overload, noise sensitivity, sensory diet, sensory-friendly clothing, picky eating, sleep difficulties and more.