SensorySmart™ Strategies for Wearing Masks during the Pandemic
The COVID-19 pandemic is disorienting and scary for all of us. It has been a marvel for me as an occupational therapist to see how well so many of my clients —children, teens, and adults alike — have coped with this surreal disruption of daily routines.
 As we adjust to the "new normal" many are still learning to take the proactive steps needed to protect the safety of themselves and others: washing hands frequently, physically distancing, and wearing a mask.
Wearing a mask has been especially difficult for people with sensory challenges who struggle with certain textures, tags, seams, and other tactile sensations. What's more, some people with processing difficulties rely on facial cues to help them understand what a person is saying and to identify the person. This makes wearing a mask or sometimes just seeing someone with a covered nose and mouth unpleasant, distressing, or downright intolerable.
If you are struggling with this for your child or yourself, you are not alone! Fortunately, there are many sensory smart strategies that can make wearing a mask easier. It will help to first analyze the problem:
What sensory demands are intolerable? Does the child (without respiratory issues) feel it's harder to breathe when wearing a mask? Is it the feeling of cloth on the lips? Is it the strap? Is it the smell? Is it that the child is disturbed by not being able to see others' nose and mouth?
What about the environment? Do you put the mask on when the child is indoors or outdoors? Where are you taking the child once masked? How long does the child have to wear it for?
How can I prepare my child better for this activity? Does the child understand why wearing a mask is so important? Do they have a sense of predictability and routine? Are they able to feel some mastery over the situation?
Solutions and Strategies
Just like clothing, there is a range of fit and comfort when it comes to masks. There is no one-size, one-style fits all. Some masks are more sensory-friendly than others, and it may take you and your child some trial and error to find the most comfortable material, shape, and strap design. Here are a few ideas:
While some people like disposable surgical masks, they often do not fit well, do not seal well, and can get hot. If you or your child prefers these though they are too loose, fold the mask in half lengthwise, form a knot by the edge of the mask, and gently push the sides of the mask beneath the knot. You can tie additional knots if needed to improve mask fit.
If it's a reusable mask (rather than disposable surgical mask or KN95/N95), wash it in hot water with unscented detergent before wearing. This will remove any chemical sizing and packaging smells from the plastic wrapper. Wash it after every time it is worn.
Many tactile sensitive kids and adults feel better with all-cotton masks that have soft, adjustable cotton straps such as those from Joah Love. Many stores such as Target and Old Navy also have a selection of soft cotton masks for kids and adults.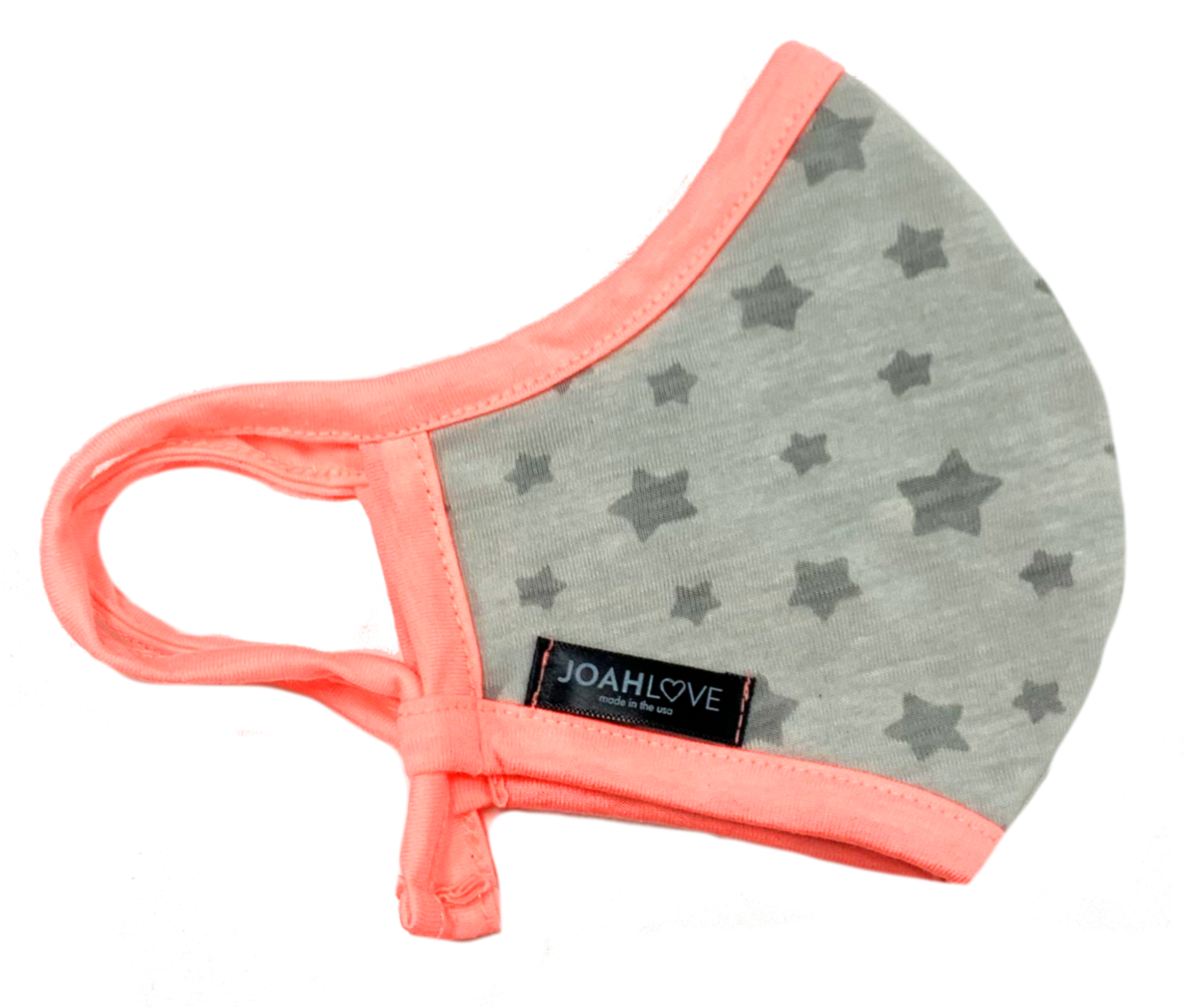 Straps make a big difference. Experiment with masks that have ear loops and those with straps that go behind the head which can tug hair and irritate sensitive scalps (wearing under a ponytail reduces this to an extent). Your child may be happier with softer straps that can cinch up with a tug rather than elastic straps that can pinch and be too tight. You can also add a Cord lock to adjust straps.
There are also extenders you can add to the loops which you can find online.
Search the internet for headbands with buttons for mask loops. You can easily make your own too.
If the person likes wearing a baseball cap, sew buttons on the hat and attach the loops to the buttons instead of around the ears or behind the head.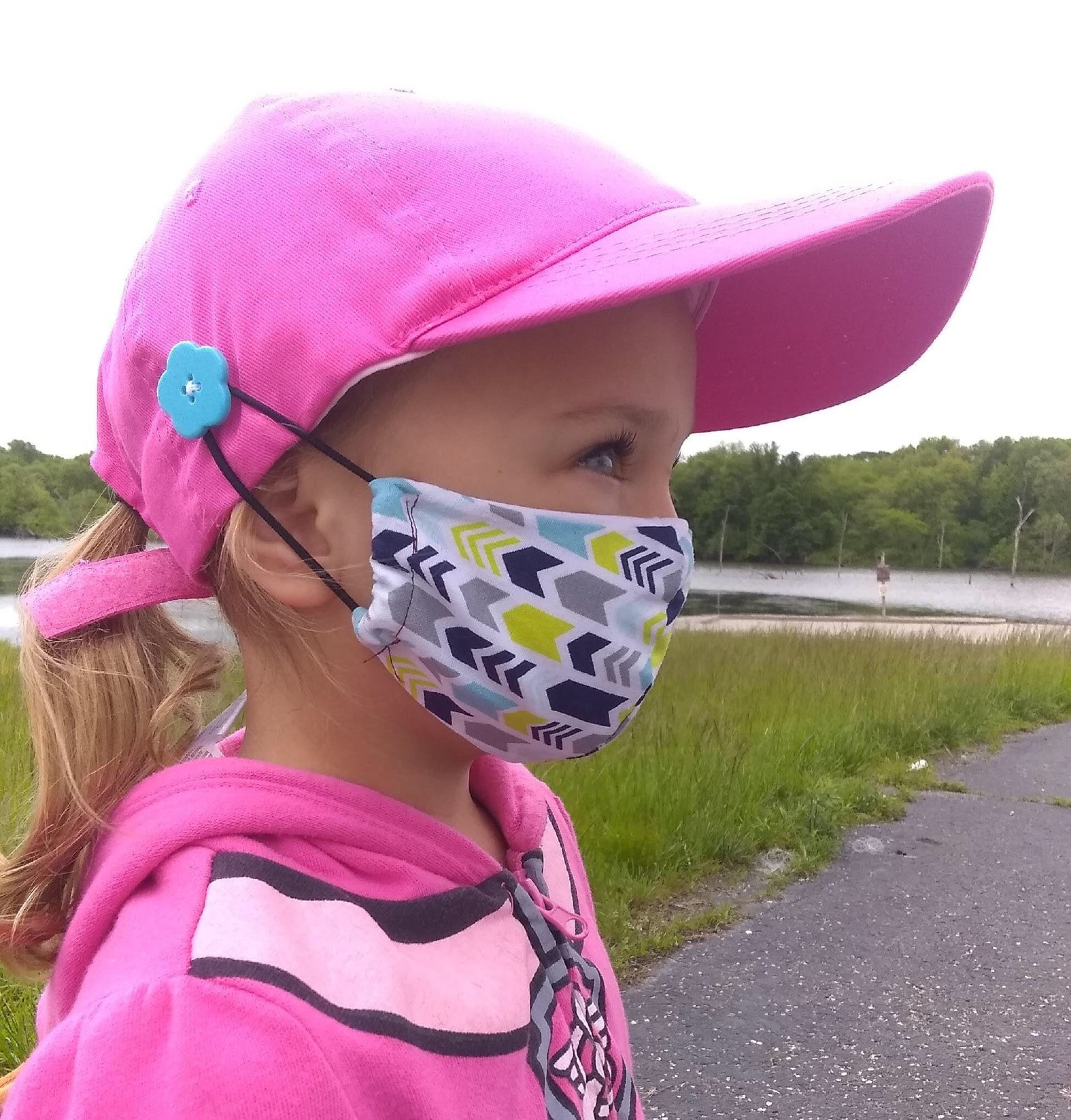 Look into themed-masks with favorite characters, preferred colors, team names, and so on. Personalizing it and allowing your child to choose the mask helps with acceptance and willingness to wear it. There are loads of themed masks available on Etsy, Amazon and elsewhere such as this cute theme mask
Fun and Function Social Masks have a transparent window that keeps facial expressions visible. This helps kids and adults tune in to nonverbal cues and social nuances, allows lip reading, and lets kids more easily recognize familiar faces.
If eyeglass fogging is a problem, add a strip of medical tape along the top of the mask to seal it and prevent warm air from leaking upward under eyeglasses. Or spray eyeglasses with anti-fog goggle spray such as Tyr or Optix.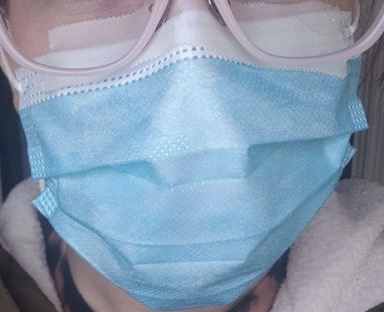 It may help to put a drop of a preferred pure essential oil on the outer side of a mask (never against the skin or directly in front of mouth or nose) so the user inhales a scent they love. Essential oil preference is highly individualized so you'll need to experiment. Use only the highest-grade, therapeutic essential oils and remember to apply just one drop to avoid sensory overload! Try this at home before going outside for the day.
Shallow mouth breathing is common among kids and adults. Practice taking deep, calming breaths through the nose rather than mouth. A visual such as Take 5 Breathing can really help. The Take 5 Breathing video works well for many people. You can also download a Take 5 Breathing Poster.
Alternatives: Gaiters and Shields
Some people prefer a gaiter style covering which is basically a stretchy fabric tube. There are loads of these available online. Again, to be effective they need to fit snugly so that air does not escape through gaps in the material.
Masks protect others by filtering the droplets we emit when we exhale, cough, sneeze, talk, sing and so on. Face shields provide others with some protection but obviously air escapes around the edges of the shield and thus they are not as effective if used without a mask. A mask and shield worn together provides greatest protection, essential if you or your child are sick or have a compromised immune system. There are many available online and increasingly in stores. Higher quality shields provide increased visual clarity, are easier to disinfect, and last longer. Three favorites are those from:
• Little Lives PPE PediaShield™ created by doctors with medical grade plastic and non-toxic headband foam for kids and adults.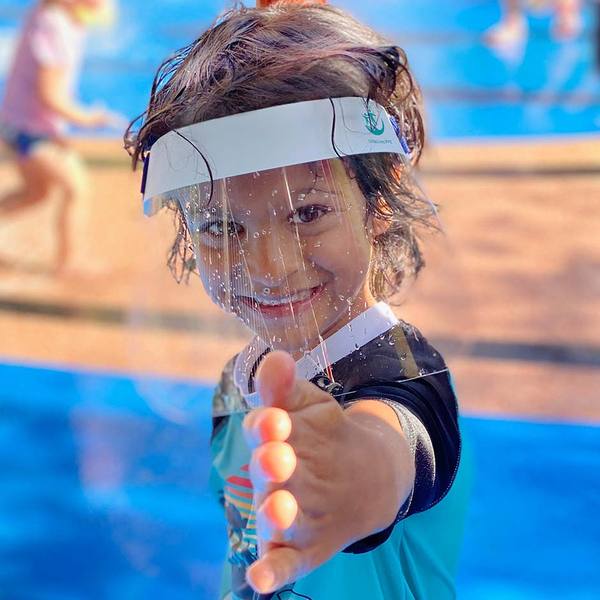 • Third Kindness High-quality medical grade face shields for kids and adults with solid or cute decorated headbands.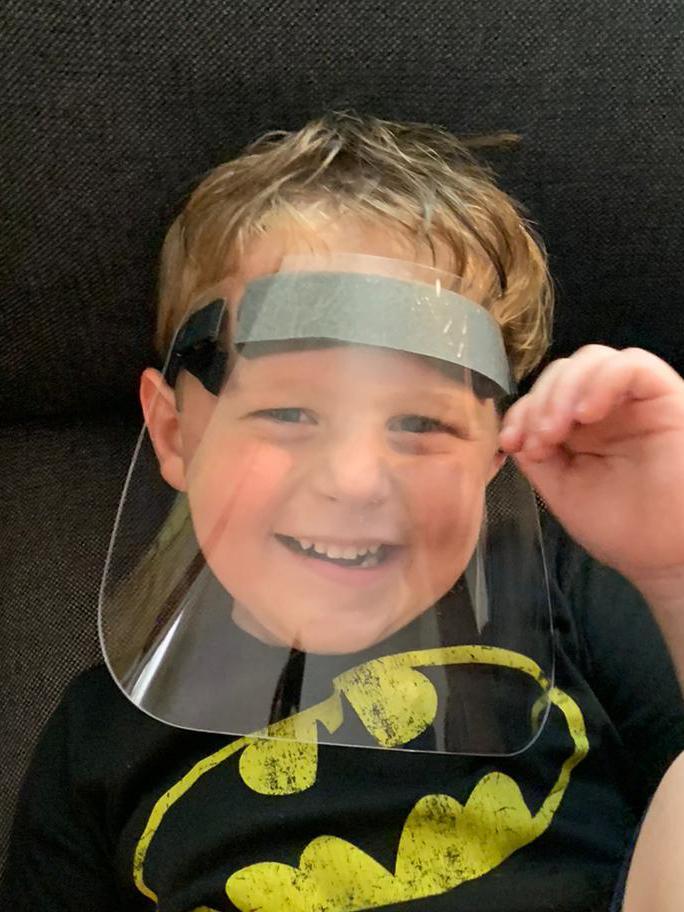 • Shield Pals Adorable styles for kids and adults with clear, high-quality shields.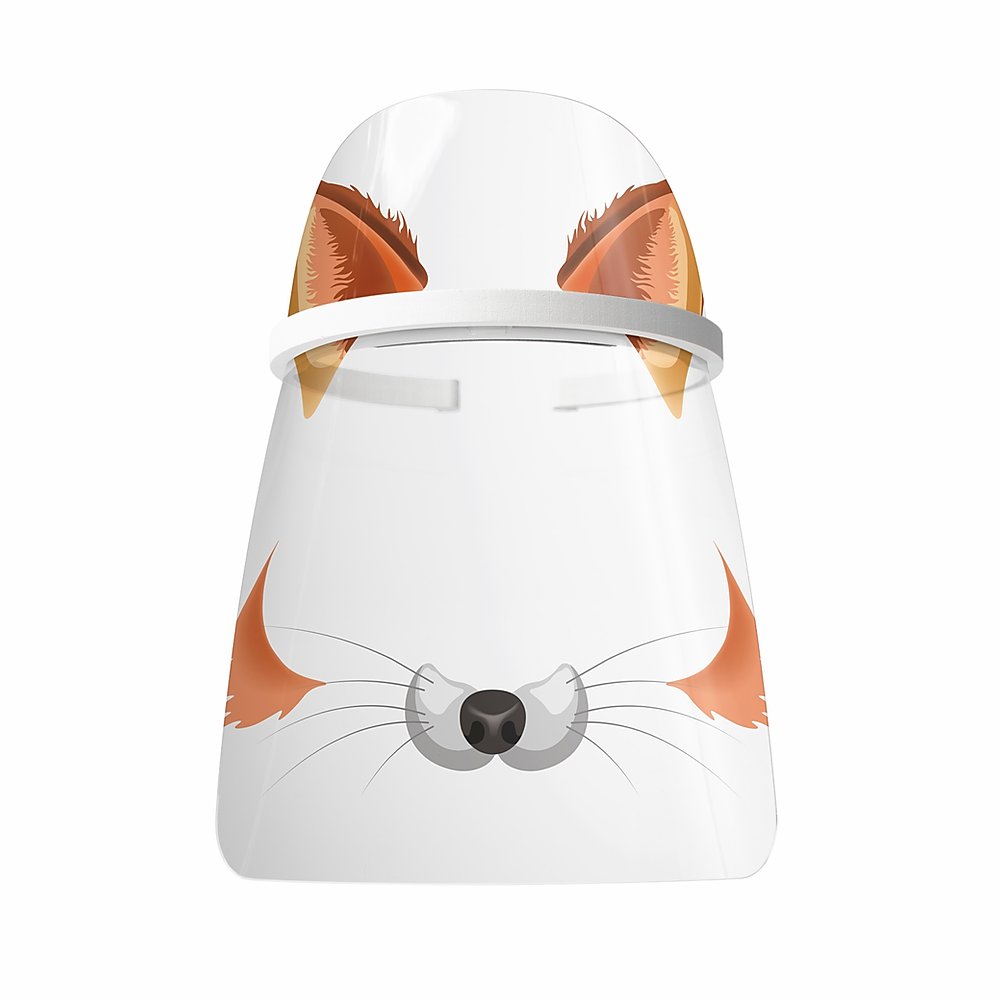 Tips to Build Acceptance
Be a good role model. Teach your child it's not a big deal to wear a mask and that you are proud to protect other people with this simple action. That makes you and all mask wearers superheroes!

Start by having your child wear the mask for short periods at home, using a timer if that is helpful. While wearing it, engage your child in a fun activity such as making cookies, using Play-Doh, or playing a game.

Place the mask on your child at home and go for a short outing, even if just to the mailbox or down the block. Slowly increase wearing time until the child is able to wear it during an activity such as going to the store for a special treat. It's best to do this during an off-hour to avoid crowds, especially if you are concerned that your child won't keep the mask on or if people in that store aren't keeping you and your child safe by wearing masks themselves.

Take breaks if needed away at least 6' away from others.

Remember that the mask must cover the nose and mouth. If your child or other person your life wants to wear it under the nose, remind them that we pull our masks over the nose and mouth just like we pull underpants all the way up. You can make it funny but firm: we don't let our private parts hang out of our underpants in public and now we don't let our nose and mouth hang out in public either!

Does the child understand why it is necessary and helpful? It is well-established that wearing a mask at all times you cannot be physically distant from others outside of your family — or even within your own home if someone is at risk or actively ill. It's important to remember that even very young children can get very sick from COVID-19 and also may be completely without symptoms but still carry the virus home to other family members.

Again, wearing a mask, physically distancing, and washing hands often for 20 seconds (or using hand sanitizer frequently if no water and soap is available) is essential to keep your children, your parents, your partner/spouse, yourself, and others from getting sick. For many kids, and unfortunately for many adults too, this is an intellectual understanding that doesn't necessarily translate into action. It may help your history buff to read up on the 1918 Spanish Flu epidemic. It may help to read social stories and watch videos that teach about COVID-19 and help normalize wearing a mask. It certainly helps if your child is into superheroes because nearly all of them wear masks!
Social Stories, Videos and Books
Social stories and videos about COVID-19 and wearing a mask are easily found online on sites including Autism Resource Central.
Reading a book together helps to normalize this period in history. You may want to help your child keep a diary about their experiences or write a book of their own to share with their children and grandchildren some day.
About the Author
Lindsey Biel, M.A., OTR/L is a pediatric occupational therapist with a private practice in New York City where she evaluates and treats children, adolescents, and young adults with sensory processing issues, developmental delays, autism spectrum disorders, and other challenges. With the COVID-19 pandemic, she now offers teletherapy to families and schools nationwide.Lindsey is co-author of the award-winning Raising a Sensory Smart Child: The Definitive Handbook for Helping Your Child with Sensory Processing Issues, with a foreword by Temple Grandin. She is also the author of Sensory Processing Challenges: Effective Clinical Work with Kids & Teens and has authored two chapters in Dr. William Steele's book Optimizing Learning Outcomes as well as contributed to the all-new edition of Kim West's classic Good Night, Sleep Tight.
Sensorysmarts.com participates in the Amazon Services LLC Associates Program and earns a small commission on items purchased through this page. Thank you for your support.