Spring Tips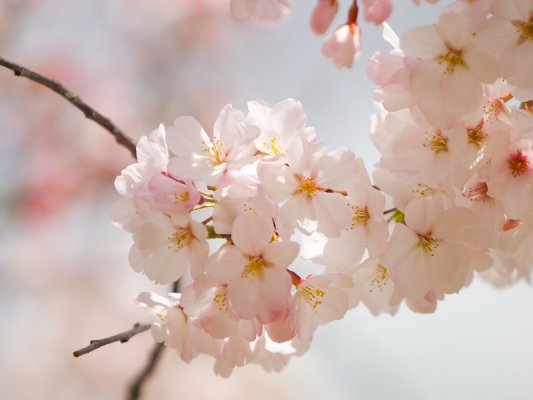 March Comes in Like a Lion, Out Like a Lamb
We're entering a period of transition that most of us look forward to: the weather grows warmer and the days grow longer. But for kids with sensory processing issues who struggle with change, this can be a hard time too.
As with most challenges your child faces, start by helping her to predict what will happen. Even though it can sometimes snow in April and sometimes warm up in March, you can help your child understand that the seasons are about to shift.
With changes in fabric types and styles, less weight due to fewer layers, and less skin to be covered, your child's tactile sensitivity may really kick in. For example, your child may now be used to heavy longsleeve sweatshirts worn over thermal longsleeve tees, and a warm woolen coat. This provides a very different feeling from a thin cotton teeshirt and a light jacket. It may be the time to reinstitute the therapeutic brushing program you may have done in the past that really helped to decrease your child's sensitivity.

Talk about the different clothing your child will be wearing. Take a look now at clothing and see if you need to replace anything from last year. If so, buy it now so you have plenty of time to launder the items several times to soften them up if your child is sensitive to new clothing. Remember to feel for and avoid itchy seams, loose threads, bunched elastic cuffs and waistbands, and scratchy appliques.

Teach your child about Daylight Saving Time, and explain that "Spring Forward, Fall Back" means we set our clocks forward one hour ahead, creating an extra hour of sunlight in the evening. It's great to have more light each day, but this also tends to interfere with the sleep-wake cycle of sensitive kids who are used to going to bed a certain number of hours after the sun goes down.

You can prepare your child for the time change in advance by adjusting bedtime in small increments. Try to move bedtime back several minutes a day several days in advance so that when the clock changes on Sunday, March 14th, his internal time clock won't feel as out of whack. Be sure to change all clocks before you go to bed Saturday evening and get everyone up at their regular time Sunday morning.

Focus on fun. After a long winter cooped up in the house, or bundled up to go outside, Springtime is just around the corner! Make plans now for what your child would like to grow in the backyard or in a windowbox. Start talking about all of the fun things your family will be able to do once the warmer weather arrives!
Spring Cleaning
With powerful chemicals and strong odors, plus dust bunnies and mites on the loose, it's no wonder sensory issues are often significantly worse when your house is cleaned. Cleaning products that contain ammonia, bleach, and pine oil send out toxic fumes that are irritating and can be physically painful to smell and inhale. These days there are many sensory-friendly, earth-friendly cleaning products on store shelves. Brands such as Method, Mrs. Meyers, and Ecover are easier on the senses for kids, adults, and pets, and better for the environment.
Even better for your family and the environment plus more cost-effective, try these cheap, time-testing green cleaning approaches:
Baking soda, water, and a little coarse Kosher salt are great for scrubbing bathroom porcelain and tile.
For stains and mildew, apply lemon juice or vinegar and let it sit for several minutes before scouring with a scrub brush.
Make your own disinfectant by mixing 20-30 drops of tea tree oil from the health food store with two cups of water and 2-3 tablespoons of liquid soap.
Mix two tablespoons of white vinegar with a gallon of water and pour into a spray bottle to clean windows and mirrors. Use newspaper rather than paper towels that can leave streaks. If you can't stand the smell of vinegar try club soda or lemon juice.
Use baking soda to deodorize carpets, refrigerators, cat litter boxes, and garbage cans.
Use baking soda with water or vinegar to scrub tubs, stovetops, ovens, and pots and pans. Add kosher salt if you need a stronger abrasive.
Use vinegar to clean windows and mirrors.
Clean tarnished silver by lining a bucket or your sink with aluminum foil. Pour in boiling water, some salt and a cup of baking soda. The magic of chemistry will make the foil tarnished and leave you with clean silver. If you do need to hand clean delicate, highly figured silver, use toothpaste and a soft cloth.
Consider purchasing a HEPA air filtration system and a vacuum cleaner with a HEPA filter.
Seasonal Allergies
Hay fever season is fast approaching, and will be earlier than usual in many parts of the country this year. Year after year, I've observed that sensory issues and unwanted behaviors become significantly worse when seasonal allergies crop up. Talk to your pediatrician or pediatric allergist to find the best approach to allergies for your child, and consider these tips:
Rinse out allergens from nasal passages daily by using a saline solution such as Little Noses, Simply Saline or a similar saline-only product.
Wash hair and body at the end of each day to remove pollen and other allergens.
Wash window screens to clear them from pollen and other allergens.
Use a HEPA air filter and a HEPA vacuum cleaner.
Food Allergies
Some food allergies are extremely serious. For example, if your child is extremely allergic to nuts, not only cannot eat a single nut, but he should also not eat food prepared anywhere near a nut.
If your child has a food allergy or sensitivity, be sure to speak with your child's school each year and before each field trip. Don't assume that every staff member is aware of your child's food allergy.
Be extra cautious at group gatherings. Ask guests to not bring foods or treats that contain the offending substance. Speak with guests coming to your home or the host if you are heading elsewhere beforehand.
If you are flying, call ahead to the airline and request that no nuts be served on the plane.
For more information on food allergies, visit The Food Allergy Intiative.
See Raising a Sensory Smart Child for more on advocating for your child at school, handling holidays and parties, and practical solutions for issues such as grooming, dressing, picky eating, and more.
© 2012 Lindsey Biel