Summertime Tips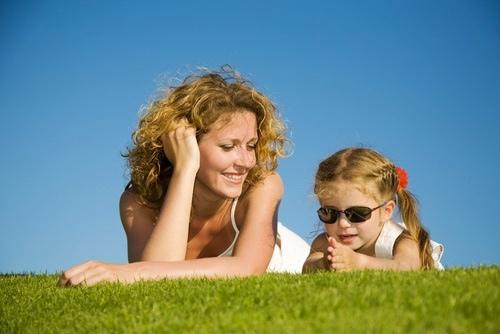 Tips for the Summer
Summertime can be both wonderful and stressful for kids with sensory issues and their families. Why do some kids seem to regress over the summer while others zoom ahead? Changes in routine, unfamiliar activities, food, faces, places, and sounds can make it very hard for sensitive kids to relax and enjoy themselves. All the work you and any therapists your child have been doing shouldn't fall apart over the summer. Your child can have fun and keep continuing to develop sensory processing, fine motor, gross motor, self-help, and academic skills with a little help. Here are a few tips:
Don't let go of all structure
While it may feel great for us to drop daily routines like waking up early, getting dressed quickly, and having a full schedule each day, many children with sensory challenges crave predictability and thrive on such routines. Studies show that kids today do not get enough sleep. During vacations, it's tempting to discontinue early-to-bed, early-to-rise routines. While you may adjust wake-up and bedtime so your child can get more sleep, don't go overboard. Adjust sleep/wake cycles slightly, but then stick to a predictable schedule to help your child stay organized and self-regulated.
Keep up systems and strategies that work during the school year. Use a calendar to plan activities and and mark off each day of vacation so your child can anticipate what's next and when he or she will return to school. If your child is overwhelmed by sudden changes in plans, let your child know what to expect each day and limit unnecessary transitions and chores.
Keep building skills
Now's the perfect time to introduce dot-to-dot books, mazes, how to draw books, craft kits, scissor skills workbooks and other cool activities you'll find in the Toys & Equipment section of this website.
Set up an art studio in your backyard by putting out an old shower curtain or tarp and let kids have fun with paint, clay, shaving cream, or another messy materials. While sensory seekers will love this, tactile sensitive kids may be more comfortable using a paintbrush or gloves.
With fewer clothes to put on and take off, now is a great time to increase independence with dressing. Sequence the task by breaking it down into simple steps. To teach a child how to put on a tee-shirt all by herself, start by helping her to orient the shirt correctly and then to put it on "one arm, head, other arm." Then teach her how to orient the shirt so the front goes on to the front of her body. Teach her to look in the mirror to check whether she put on her clothes correctly. It helps to have a decoration on the front of a shirt, shorts, or dress so she can check whether she sees it in the mirror.
Keep up your sensory diet (see the sensory diet activities page), though you may change what you are doing. Great summer activities that provide wonderful sensory input are limitless, but include:
Swim and run through the sprinkler (see tips below).
Play catch with water balloons.
Use a water gun or similar water toy to "write" or "draw."
Practice writing with sidewalk chalk.
Write and draw in sand, dirt, or mud with a stick or finger.
Build sand sculptures.
Take a hike.
Camp out in your own backyard.
Ride a bicycle, tricycle, scooter, rollerskate, skateboard, ride a horse, swim with a dolphin.
Outdoor challenges
Sunlight, wind, grass, sand, and buzzing insects can pose big challenges for a sensitive child in the summer. Swimming, with its even hydrostatic deep pressure, is one of the greatest sensory activities on the planet. Warm water, either still water or with even small rhythmic waves, typically relaxes body and mind. Cool water, especially with waves, invigorates and activates.
Here are some summertime sensory smart tips to help you and your child:
You would never send your child outside in the sun for hours without sunblock. You need to protect your child's eyes from the sun too. Have your child wear sunglasses with a neoprene strap and/or a hat with a wide brim.
Use a beach umbrella or tent to create shade and shelter from insects and wind.
Your child may prefer you to use firm massage-like strokes to apply sunscreen lotion rather than the tickly light touch of spray-on sunscreen.
Your child may be more able to tolerate sunscreen and sand if you do therapeutic "brushing" first. Ask your occupational therapist if this is appropriate for your child and to teach you how to do it.
Put sunblock on your child before going to the beach or lake. This will let it dry on the skin so it attracts less sand and dirt. Plus it may be easier to tolerate at home where there's not so much conflicting sensory input.
There are products containing both insect repellent and sunblock in either lotion and spray form, so you can protect your child in one step. Consider repellents without DEET (a nasty but effective chemical) that use safer ingredients such as permethrin and geraniol. You can find such products online by googling "DEET free insect repellent" or try your local health food store.
Allow your child to wear water shoes when walking on hot sand. Sand really is too hot for sensitive young skin!
Consider various swimsuit styles, including ones that don't flap around. For boys, compare a snug Speedo-style brief with a looser boxer-style swimsuit. For girls, you'll probably want to avoid swimsuits with skirts or ruffles. Some girls find two-piece suits that expose their bellies to sun and wind intolerable while others dislike the feel of wet nylon on their bellies when wearing a one-piece. Be patient: it may take some trial and error to find the right style for your child.
Chlorine can smell like you are inhaling pure bleach for a child with sensory issues. Try noseplugs, an outdoor pool, or a pool that uses something other than chlorine or opt for a lake or beach.
Bring along wipes or hand sanitizer that doesn't contain Triclosan since soaps in public bathrooms are often slimy and smelly.
You'll find lots more practical advice in our book!
Check out Lindsey Biel's article on summertime challenges in AutismFile
Very best wishes for a happy, fun summer!
See Raising a Sensory Smart Child for more on advocating for your child at school, handling holidays and parties, and practical solutions for issues such as grooming, dressing, picky eating, and more.
© 2011 Lindsey Biel